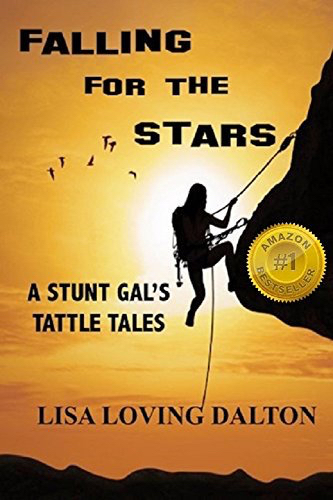 A
 What have you "not" seen me in, that is if, I have done my stunts well?
My stunts have been in blockbusters like Splash, Ghostbusters, Money Pit, Crocodile Dundee, F/X, Married to the Mob, Suspect, Funny Farm, World According to Garp and Legal Eagles and TV shows like Saturday Night Live, Legwork, One Life to Live, Tattingers and Guiding Light plus commercials for Peugeot, Cadillac, Ford and more.
What actors have I  doubled in stunts?
Meryl Streep, Cher, Madonna, Kelly McGillis, Daphne Zuniga, Grace Jones, O-Lan Jones, Katie O'Hare, Madolyn Smith, Margaret Colin, Tina Louise, Jo Ann Pflug, Julie Hagerty, Kelly Vandervelden, Kelly Curtis(Jamie Lee's sis!) are among the actors I have been honored to double along with performing her own stunts while acting.
What kinds of stunts might you see me doing?
Leaping tall buildings, going through plate glass windows, falling off bridges, buildings or down stairs, getting hit by or crashing cars and motorcycles, being shot, slashed, drowned, burned, blowing others up, dodging trucks, hanging off high things, mud wrestling and sliding cars around corners.
What do you think of the folks have you met in your stunt career?
Meryl and Cher were both amazing and went out of their way to support me.
Katherine Hepburn was really the only actor that I was so in awe of that I didn't know what to say.
Robin Williams was so fun and funny and kind.
Walter Mathau was so dry witted, I never knew when he was serious, then I figured out he never was.
Dick Van Dyke and Sid Ceasar were hysterically funny.
Lucille Ball, one of my great role models, was gentle and businesslike.
Georgia Engle, Julie Hagerty and the gals on Day the Women Got Even were all warm and friendly.
Robert Redford knocked me over take after take and checked in with me after each one to be sure I was fine. Quite lovely.
Sean Connery was oblivious to the stunt players keeping his character safe in a riot.
Michelle Pfeifer was great to hangout with on Sweet Liberty and Married to the Mob. It was lovely to see how industry respect for her had grown by Married to the Mob.
Madonna posed for a picture of us together though she was a little weirded out by having a stunt double in the beginning.
Grace Jones was radiant, though I never got the ring of brown make off the tub of my apartment-maybe that's why I didn't get my security deposit back either!
Every star has the ability to be kind, available and yet they do need their privacy and respect. The process of performing requires a lot of energetic concentration and I sure appreciate everyone I have had the honor to meet.
How did I get started in Stunts?
My penchant falling down as a klutzy tomboy served me well in learning how to survive, as a pipsqueak, things like bicycle crashes while racing through the woods and slipping off the limbs climbing high into the tree fort.
So when the New York opportunity presented itself to hang off the driver's door of a garbage truck in a chase scene while stunt doubling Jo Ann Pflug (Mash), with the as yet unknown future Al Bundy, Ed O'Neill, and stuntman Harry Madsen, you could say I leapt at it. That was my first official stunt contract.
Hanging out with them, I also doubled for Julie Hagerty (Airplane) when Ed and Harry kidnapped her in the TV movie, The Day the Women Got Even. It was summer of 1980 and my ginger hair first got me hired as a hazardous photo-double for Tina Louise (Gilligan's Island) and fellow carrot-top Barbara Rhoades.
Back in those days, passengers in stunt vehicles weren't considered as being as exposed to danger as the stunt driver-thank goodness nowadays SAGAFTRA has negotiated an improvement there. There wasn't any guarantee of screen credit to a stunt gal either, so most of the time you will just see part of the stunt crew listed.
While waiting around on the set, I interrogated Harry Madsen, insisting that he tell me all about stunts and I did lots of kind of silly things as I reflect, like entertaining the neighborhood kids watching us by doing acrobatics. It worked, Harry saw that I could handle my body in space and when they needed an extra stunt gal for that chase scene, he chose me.
After that, he helped me get a job on O'Malley with Mickey Rooney, where I was supposed to dive out of the way of a car in a chase. Well, there was snow and the car slid off its mark and over the hood I went. My gymnastic instincts kept me safe and impressed the group of stunt players there. I started working out with other stunt players and gradually got more and more jobs.
Did I ever get hurt?
Oh, yes—the key to being a stunt player is that you are expendable and everything you do can be dangerous for one reason or another. Lots of little dings, in general and one big one where I slammed into the Palisades cliffs north of the George Washington Bridge, when the rope I was rappelling with slipped off a corner. I wound up with a "46%" permanent loss of use of my back. That was Dec. 7, 1989.
Learned a lot about being an invalid and not being Superman. Three of my stunt colleagues had lost their lives couple of years earlier and I had agreed with my husband not to do any more. And then, the call came, and I answered. In January of 2014, I had an outstanding surgeon do a spinal fusion, bringing a great deal of use back to me!
Lisa is a master acting teacher of the Michael Chekhov Technique and offers special actor training for stunt players.
Interested in Lisa's other work? Be sure to check out her On Camera, Acting, and On Stage pages.