A Stunt Gal's Voluptuous Rollercoaster Life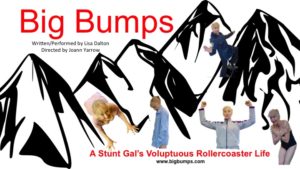 "Funny and Poignant"
Megan Gogerty, Stand-up Comic/University of Iowa, Playwright
"A love story. It made me laugh, cringe and cry. The poetry was the final twist."
Joann Yarrow, Artistic Director, Prometeo Theatre
UPCOMING DATES:
September 1,2,3, 2017 Fort Worth Fringe Festival ( Application Pending)
Lisa Loving Dalton' s new solo show brings a fun and fully uncensored peek behind-the-scenes, revealing even more of the nitty-gritty events shared in her Bestsellers: Falling For The Stars: A Stunt Gal's Tattle Tales and Murder Of Talent: How Pop Culture Is Killing "IT". Running Time: 80 minutes
At the opening moment, we discover Lisa suspended on a cliff hundreds of feet above the Hudson River, on a freezing December dawn, moments away from a lifetime of owning a handicapped hangtag. And yes, she has big bumps! We ride with Dalton on the roller coaster, discovering how the ins and outs of stunt doubling less "bumpy" actresses plays for or against her in an industry of machismo.
Big Bumps traces the arc of Lisa's blockbuster-filled stunt resume (Ghostbusters, Splash, Highlander, Money Pit, Saturday Night Live,) flashing back to her bumpy childhood ridden with klutzy confusion, bullying, bad behavior, an abuse-filled college life and finding her way to love, teaching and performing across continents as her supreme antidote.
In moments we plummet into her nightmare, but Dalton is never very far away from delicious clowning skills that led to her stunt career, even sharing with us one of her most delightful characters who uses her big bumps as springboards to her dreams.
Costume transformations and graceful movements contrast Dalton's accident-prone history. By the end, you will have discovered the title is wittily well beyond a simple double entendre. It might be fun to count the bumps along the way!
A multi-media presentation designed by producer Charles Bowles, heightens our experience with images/video clips from various films and life moments, supporting Dalton's magical storytelling.
The audience gets to participate in acting out one of the stunts plus there is an audience choice where Lisa spontaneously tells the story you want to hear from 200+ films, TV shows and Commercials. Pick from the multitude of A-List Celebrities like Meryl Streep, Robert Redford, Anthony Quinn, Lucille Ball, Katherine Hepburn, Walter Matthau, Robin Williams, John Lithgow, Sidney Poitier, Mandy Patinkin, Cher and Dick Van Dyke. Or ask about jobs like getting shot, hit by cars, leaping tall buildings, crashing motorcycles or a real catastrophe on a rollercoaster.
Dalton's radiant dynamics on the stage create an atmosphere that viscerally draws the audience right onto the movie set with her. As a storyteller, Lisa dares to move into the darkest nights of her soul, facing her fears directly, reclaiming her fractured body and spirit, aiming to inspire us through her courage to forge our own shining and laughter-filled path as she has done.*
"May all your big bumps be springboards to your dreams."
Artist Bio
Lisa Dalton is an Award-winning Author, Director, Producer, Actor who leads the National Michael Chekhov Association (www.chekhov.net) in mentoring and certifying Actors, Teachers, Directors and Designers in this healthy, movement and imagination based approach to peak performance. She is a John Maxwell Founders Circle Certified Leadership Speaker, Trainer, Coach. SAG-AFTRA DFW Board, President of the Live Theatre League of Tarrant County.
Hot Topics for her speaking engagements include:
Fearless Life Lessons From a Stunt Gal

Peak Performance Living

Stop the Murder of Talent

Embodying Christ

The Gesture of Life
Visit Lisa Dalton on www.imdb.com for more film career information.
Get Free chapters, gifts, newsletter sign up, media, and current schedule of workshops, book signings, speaking and performance engagements at www.lisadalton.com
Up-coming Events:
World Premiere: Fort Lauderdale Fringe Festival, April 21-23, 2017
Texas Premiere: Hill Country Community Theatre, August 12-13, 2017
TBA: Fort Worth Fringe Festival Sept 1-3, 2017
For Bookings-Speaker, Workshops, Contact: Charlie Bowles, at info@chekhov.net
* Artist's note: No personal memories are harmed, abused or recalled in the creation and performance of this autobiographical story. "It's called ACTING!"
Thank you, Michael Chekhov.
A. Chekhov's The Darling
Michael Chekhov Master Teacher Lisa Dalton brings her solo show Anton Chekhov's controversial story of The Darling to the stage using Michael Chekhov's technique.
Booking now for Spring 2017-Fall 2017
Here's a Review that sums it up: New York International Fringe Festival, 2011 WWW.CURTAINUP.COM
A. Chekhov's The Darling: Although there's lots of dismaying nonsense at this year's Fringe Festival, A. Chekhov's The Darling, as performed by the accomplished Lisa Dalton, is not among the silliness. This dramatization of the author's 1898 short story is appropriately slow, sprawling, and leisurely. Cleanly directed by Victor S. Tkachenko, you won't be jiggled or massaged with any special effects or theatrical gimmickry. But then why mess with Chekhov? He is a master of continuous revelation, and his Darling is both a poignant love story and philosophical inquiry into a human soul. The story follows the life and mind of Olenka, a woman who was "always fond of someone, and could not exist without lovingTheDarlingPressKit10-12." But there's a deeper and more disturbing premise lurking beneath the surface narrative. Olenka's nickname "Dushechka" derives from the Russian idiom meaning a "total lack of one's own personality and identity." And there is the rub! Is the protagonist actually a reflection of pure love and dedication? Or merely a human parasite who must subsume her life in another's identity? Chekhov would be proud of this solo production with its authentic-looking Russian Samovar, straightforward retelling of his tale (new translation by Victor S. Tkachenko), and Dalton's fine and humane acting. There are splashier, flashier, and more eye-catching shows at the Fringe this year. But The Darling, as Leo Tolstoy once aptly described it, is a "pearl."  75 minutes.    [Donovan]The Internet Theater Magazine of Reviews, Features, Annotated Listings http://www.curtainup.com/fringe11.html#Darling
Now Available for booking Fall 2015 and Spring 2016