Biography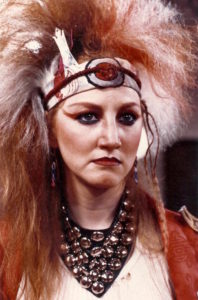 Lisa Loving Dalton appeared in more than 200 films, television shows and commercials as an actor and stunt player in New York, Hollywood, and Texas. You've seen her in ER, HBO's Carnivale, Dr. Quinn and Melrose Place among her many TV credits. She was featured in the cult favorite Berry Gordy's The Last Dragon as a bad gal in Sho'nuff's Gang. Visit IMDB for a partial listing.
Her stunts were used in such hits as Ghostbusters, Money Pit, Crocodile Dundee, Married to the Mob, FX, Legal Eagles, and Splash. She doubled Cher, Madonna, Kelly McGillis, Grace Jones, and Meryl Streep.
On the other side of camera, she is an award-winning director/producer of independent fiction and documentary films.
Lisa teaches and performs in Russia, Europe, and the Americas, on stage and film, beginning in 1976 with BondST.org as a founding member. She is on the SAG-AFTRA DFW Board, President of the Tarrant County Live Theatre League, President of the National Michael Chekhov Association (www.chekhov.net); and is a John Maxwell Founders Circle Certified Speaker, Trainer and Coach.
Through the NMCA, Dalton and Professor Wil Kilroy developed the longest running Michael Chekhov Teacher certification track globally. Lisa was the 2014 SouthEastern Theatre Conference (SETC) Guest Master Teacher.
In 1998, Lisa co-created the Award-winning documentary From Russia to Hollywood narrated by Gregory Peck that aired on PBS. Other DVD's she has authored include:
She is the author of:
She is also certified in NLP, Hypnosis, and Neurological Repatterning and a John Maxwell Team Speaker, Trainer, Coach.
Off-duty, you might catch Lisa cruising on her BMW motorcycle with her Shih Tzu, Tibby Dalton (Friend him on FB). A biker since her first stunt in 1980, she has ridden in all 50 United States and 9 Canadian Provinces.
As a celebrity golfer with her late husband, actor Ken Kerman, she has served many charities, with favorites Alice Cooper's Solid Rock Foundation, Barbara Sinatra Abused Children's Center and Make-a-Wish Foundation. She is a proud stepmom of two and grandma of four. Scuba, hiking and being a bird nerd flesh out her hobby list.
For more information visit Let's Get Personal
Learn More
Lisa Loving Dalton Amazon Best Sellers: 
Acting Classes:
 Speaker:
 Solo Shows: