Lisa is President of the 
National Michael Chekhov Association
, co-founded with Mala Powers and Wil Kilroy. She is a master teacher of Michael Chekhov's acting technique.  Since 1994, Lisa has been on the Faculty of the Chekhov Training Intensive, training acting teachers and professional actors. This is the longest running Chekhov Intensive worldwide, the most highly refined Teacher Training Certification available in varying locations around the USA.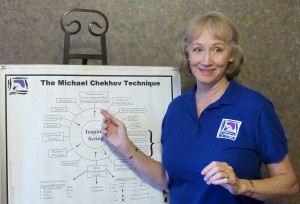 upcoming workshops:
NMCA'S CHEKHOV TRAINING INTENSIVE
for Teachers and Actors
DEC 28, 2021 – JAN 3, 2022 in Gainesville, FL
JUNE 5 – 11, 2022 in Las Cruces, NM
Deeper By Demand-Devising with Chekhov and Deeper Exploration of the Tools.
JUNE 12 – 16, 2023 in Las Cruces, NM
Recently:
Lisa spoke online at the South Asia Theatre Association (SATA) Opening ceremonies for their Nov. 2021 Festival: South Asian Inspirations for Michael Chekhov
Lisa spoke for FRONT RANGE ANTHROPOSOPHICAL CAFE on MICHAEL CHEKHOV AS A PATH TO SPIRITUAL SCIENCE in Oct 2021
She spoke for Creative Mornings Fort Worth on "Dare" to be creative! SEPT 2021
Lisa created and posted her 100th youtube video in 2020.
Taught at the Four Brothers Michael Chekhov Studio in Mexico City with Paco Gallego, In Brussels, Berlin and London in 2019.
She directed Small Town Boys at the Vancouver Fringe Festival in September 2018.
July '18 found Lisa teaching Chekhov with Style, with Janice Orlandi at Rose Bruford College in London. And again for two weeks in July 2019.
In May 2018, Lisa taught at the Directors Lab West in Los Angeles and with director, Joann Yarrow, presented  Big Bumps: a Stunt Gal's Fear Less Life Lessons, previously performed at the Fort Worth Fringe Festival, Sept 1-2, 2017, following her performance of  Big Bumps: A Stunt Gal's Voluptuous Rollercoaster Life at the Fort Lauderdale Fringe.
Michael Chekhov Master Teacher Lisa Dalton presented at  EdTA, UNT, KCACTF, TNT and SETC! Sept, 16, 2017, Lisa presented a master class, Michael Chekhov For Youth at the National Conference for the Educational Theater Association (EdTA) in Nashville, TN, with her highly interactive experience in the Chekhov technique for the Jr. and High School Teachers, who lead the International Thespian Society troupes, bringing performing arts to our teens and pre-teens.
Lisa performed "The Darling" and taught classes at Oklahoma City University and at Hill Country Community Theatre and Lee College, Baytown, TX, May 2016.
The Darling, received an audience appreciation nod at the First Annual Fort Worth Fringe Festival, March 18-19 2016.
MAY 30-31, 2015, Lisa led the Michael Chekhov Immersion ensemble in a 16-hour intensive that spun around the Chart for Inspired Acting, applying the tools and concepts to Spoon River Anthology. The event concluded with an exciting work-in-progress presentation of a  devised frame supporting all of the actors in sharing two distinct versions of the monologue with improvised transitions into Rock Garden sculptures. Thanks to Joe Chapa and UTA for hosting! Future Immersions will be developed!
March 20-21, 2015, Lisa presented Michael Chekhov Master Classes at the Texax Non-Profit Theatre Conference in Lewisville, TX. Classes covered Sensational Feelings and Creative Characterization.
In March 2015, Lisa  again presented Michael Chekhov Classes at the SETConference in Chattanooga, TN focusing on Directing and Design.
Lisa spoke at Tarrant County College Career Day for the Film Club and guests as a representative of DFW SAG-AFTRA. 125 Attendees heard stunt stories and more as Lisa inspired them with pro-active advice: Don't wait for your career to come to you. Make it happen every day in every way.
In February 2015, Lisa Dalton was a Kennedy Center American College Theatre Festival Irene Ryan Acting Scholarship Finals and Semi-Finals Selector for Regions 4, 6 and 8. She also presented various Michael Chekhov Master Classes on Directing, Design, Psychological Gesture, Radiation, Star Quality Activation, Sensational Feelings, Creative Characterization.
In 2014 Lisa Dalton was the SETC Feature Guest Presenter/Master Teacher offering three workshops a the Mobile Alabama Festival of 4000+ attendees.
Michael Chekhov Master Teacher Lisa Dalton offers her  two solo shows along with Master Classes.
Train with Lisa! Visit the Private Coaching page to learn more.