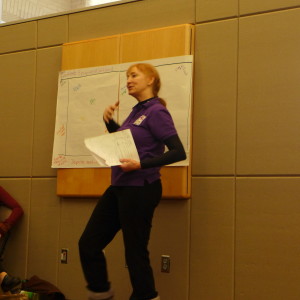 Lisa Dalton is President of the National Michael Chekhov Association, co-founded with Mala Powers and Wil Kilroy. She is a master teacher of Michael Chekhov's acting technique and a noted documentarian. Lisa has shot several hundred hours of video on the subject of Michael Chekhov ranging from interviews with some of his famous students, to excerpts from classes taught in Russian, Berlin, England, and the US. She is the co-producer of From Russia to Hollywood, the award winning documentary and contributed about one third of the footage for Michael Chekhov: The Dartington Years as well as for Russia's Planeta TV first documentary on Michael Chekhov.   Lisa released two DVD's for Sale: Anthony Quinn's Life and Encounters with Michael Chekhov and Lisa Dalton's Actor's Workout of the Chekhov Exercises.
Since 1994, Lisa Dalton has been on the Faculty of the Chekhov Training Intensive, co-created with Mala Powers, Chekhov Estate Executrix and Professor Wil Kilroy, training acting teachers and professional actors. This is the longest running Chekhov Intensive worldwide, the most highly refined Teacher Training Certification available in varying locations around the USA.
Lisa was the Creator/Artistic Director of the first two International Michael Chekhov Workshops in the United States in 1998 and 1999 at the Eugene O'Neill Theatre Center in Connecticut. She was on the Organizing Board of Directors of the International Michael Chekhov Association, drafting the original articles of incorporation in Russia in 1993. Lisa taught Chekhov in UK, Berlin, Brussels, Paris, Caribbean, and around the US at various other Theatre Festivals, professional acting companies and colleges.
As a student of the Chekhov technique since 1980, Lisa studied with perhaps more first generation Chekhovians than any other teacher today: Beatrice Straight, Deirdre Hurst du Prey, Felicity Mason, Eleanor Faison, Hurd Hatfield, Eddy Grove, Joanna Merlin, Mala Powers, George Shdanoff and Jack Colvin. Wilfred Hunt, Ted Pugh, Mel Gordon, Sims Wyeth were also contributors to Lisa's body of knowledge along with interview subjects, classmates and teaching colleagues including Anthony Quinn, John Berry, Richard Kiley, Ford Rainey, Daphne Field, Mary Lou Taylor, Paul Rogers, Lloyd Bridges, Sharon Gless, Leslie Caron, William Elmhirst, Fern Sloan, Melania Levitsky, Dorothy Emerson, Joerg Andrees, Jobst Langhans, Sarah Kane and Andrei Malaev Babel.
Lisa has developed applications of Michael Chekhov's theories for stage and film directing, for artistic promotion, for on-camera acting in various forms from commercial advertising, stunt work to situation comedy and auditioning for film and television. She taught at the American Film Institute Screen Actors Guild Conservatory in Hollywood, CA from 1988-2006. She has continued to offer workshops with the SAG/AFTRA DFW Professional Actor Training Programs.
Currently living in Ft. Worth, Texas, Lisa is writing and publishing materials on applications of and further developments of Michael Chekhov's technique. In the fall of 2007, Lisa was one of three teachers selected worldwide and the only English-speaking teacher on the Faculty of the International Symposium Workshop at the Sorbonne in Paris. She was the only Attendee to teach and present a scholastic paper at the Symposium and contributed historical footage for screening. The book from this symposium was released in summer of 2009.
Lisa's educational background includes a BA from the University of Maryland, graduate training at American University with Experimental Directors Richard Schechner, Leo Shapiro, and Charles Ludlam. Extensive additional training in techniques of Grotowski, Polish Mime Theatre, Meyerholdt Bio-mechanics, gymnastics, combat and clown, mask, mime, circus arts, Stanislavsky, Strasberg (Actors Studio), Hagen (HB Studios) and Meisner.
Download Lisa's teaching resume
Want Lisa to visit your classroom? Visit the Master Teacher page for more information.
Train with Lisa! Visit the Private Coaching page to learn more.