Murder of Talent
How Pop Culture is Killing "IT"
An AMAZON #1 Best Seller
With the National Endowments of the Arts and of the Humanities under political attack, now more than ever, we need to understand the incredibly important role talent plays in our culture. With over 20,000 years of archeological evidence of performances, few professions can claim to be as enduring as the performer.
Behind-the-Scenes Tell-All About How Talented Artists and Athletes Are Mentally and Physically Killed by Badly Behaving Fans, Families, Teachers and Coaches Who Deify, Vilify and Crucify Our Stars.
How She Found Healthier Ways to Mentor the Talented and Bring Healing to Our Culture
Lisa Loving Dalton, a forty-year veteran of the entertainment industry, dares to pull back the curtain of tinsel town to examine some very gritty facts.
What stands out in her new book Murder Of Talent: How Pop Culture Is Killing "IT" is the no-holds-barred assay she makes on the fans, the families, mentors and the talented ones revealing the dangers that exist. An easy and dynamic read, with something for everyone, this part memoir, part political diatribe is also a master class for training for Peak Performance in art, athletics, politics and life.

---
"Ms. Dalton is so courageous in exposing and explaining life in the arts.  She has such great insight into our psyches and how our negative energy can poison not only our work, but our life.  The book has something for everyone.  I'm so grateful to have been given the opportunity to read it. GET THIS BOOK! "

– Michael Skipper, Broadway Producer and Tony Award Winner
"Dalton offers sage advice for mentoring young talent, enabling them to recognize unhealthy patterns and avoid the pitfalls common in the field. There is wisdom for adults too – stop hiding your talent. Pursue your dreams no matter how old you are."

    – Dr. Melissa Sporn, Clinical Psychologist for Teens, Tweens and Parents
"Read Murder of Talent and weep! Lisa Dalton's impassioned book demonstrates abusive teachers of acting are still out there. "Stanislavsky prophetically feared just such reductive appropriations of his System…. He sees himself as author, crying out in protest, "This is terrible, a fraud, the murder of talent."

  – Dr. Sharon M. Carnicke, Academic Associate Dean, Dramatic Arts, USC, Director, The Stanislavsky Institute for the 21st Century; Author of Stanislavsky in Focus
---
Dalton puts us all on trial for the death and destruction of our stars, our wannanbes, our selves and our culture. She calls for the arrest of some and even judges herself guilty of self-violence for allowing a famous coach to destroy her film-acting career. Then, with empathy and wisdom, Lisa gently steps us along a path to redemption with tips for each of us on how to stop the metaphoric and actual bloodshed, leading us to happier, healthier lives.
Endorsed by a Clinical Psychologist and a Tony Award-winning Producer, with foreword by noted scholar/author Dr. Sharon Carnicke, Dalton courageously shares painful true stories of how she and fellow artists were indoctrinated in PTSD-inducing techniques. The knife is further twisted when we understand this destruction is still propagated by academia and manipulative super coaches, some making over a million dollars a year as they drain the pockets of penniless actors and a few super stars to boot.
No wonder stars are killing themselves with sex, drugs and other bad behavior.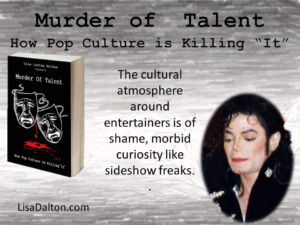 Perhaps the most publicly provocative aspect of this book is how children are traumatized into denying their talent by parents, teachers and peers. Parents fear economic and social instability, and even attach homophobia to talent, refusing to support their children in non-math/science careers, forcing them away from what they love and into other fields where they suffer, fail and take a toll on society. Dalton reveals what it takes to survive humiliation in the classroom, harassment and jealousy from friends, self-doubt and parental disapproval.
It is rare that any adult passes a single day without repeated exposure to entertainment. Dalton reminds us that since ancient times, storytellers have led the critical task of unifying and uplifting the culture. Yet learning how to uptake that noble task is at risk. Politically, the arts, while having scientifically demonstrated outstanding economic and health benefits, are being systemically eradicated from curricula.
Murder Of Talent reveals the cost, the cause and a cure for the negative impact pop culture and its icons have on each other. It challenges the reader to reflect on their own role in society's badly behaving celebrities while calling on coaches and parents to step up their game to offer higher quality mentorship. For those with talent, it asks them to go beyond their fears, demand respect and learn how to survive being deified, vilified or crucified by the public.
"We need talent now as much as our tribal ancestors did when they carved masks on the cave walls. It's time to stop the murder of talent and start healing the wounds of our culture through the arts."
---
"I grew up in the medical industry and am now in the scuba diving industry so acting is way outside my experience.  However, I thoroughly enjoyed the book, took away a number of good lessons from it and totally recommend it to everyone in any walk of life."

– Judy Kay, Divemaster/Owner, We B Divin'
"It is very rare for me to encounter a manuscript with the degree of expertise – and the psychological/ philosophical/ humanistic depth –that you show. I have learned a great deal about this compelling (yet murderously cutthroat) acting world."

– Rosina Wilson, Editor, Author, Drink Wine With Dinner®
"Murder of Talent is an insightful and easy to read book. The author highlights the fallacy of thinking that a celebrity will automatically know how to accept stardom. Only the strongest can survive the onslaught."

– Dan Johnston, Retired Financial Manager, Community Theatre Artist
"Lisa knows what she is talking about in terms of the professional world, and introduces spiritual aspects in a way that doesn't scare people on the wary lookout for "that woo-woo stuff." She is an incredibly appealing narrator and I enjoyed spending time with her."

– M. Anderson, Editor
"Wow, why don't you tell us how you really feel:) I discovered a whole new world behind all of the movies I've ever watched. Good for you for being a voice of reason"

– John Savage, Founder/Principal Savage Art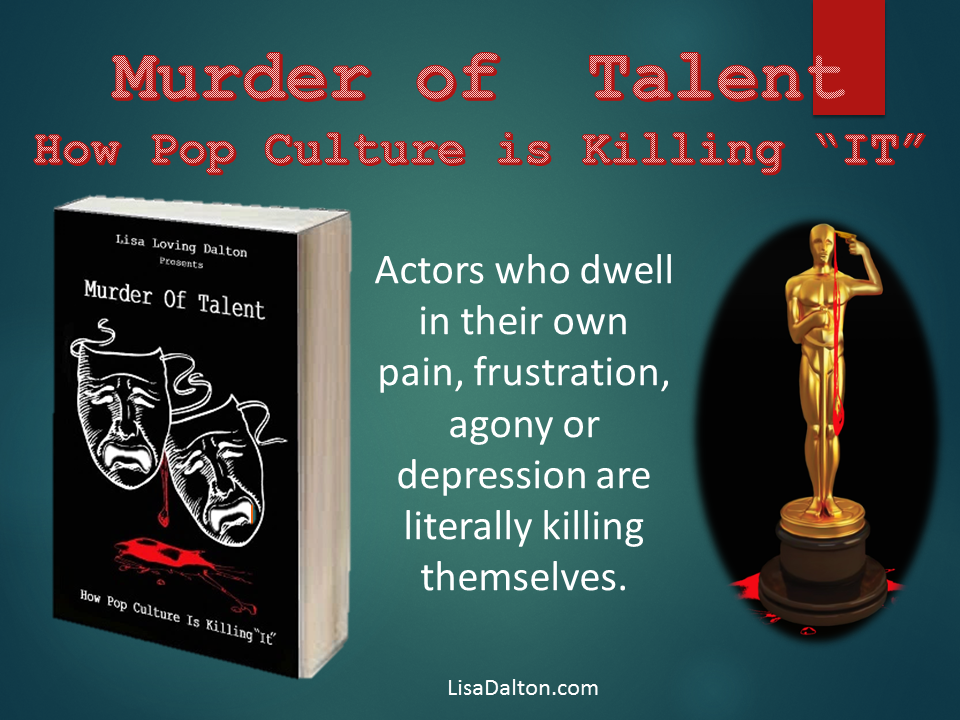 <script>
(function(i,s,o,g,r,a,m){i['GoogleAnalyticsObject']=r;i[r]=i[r]||function(){
(i[r].q=i[r].q||[]).push(arguments)},i[r].l=1*new Date();a=s.createElement(o),
m=s.getElementsByTagName(o)[0];a.async=1;a.src=g;m.parentNode.insertBefore(a,m)
})(window,document,'script','https://www.google-analytics.com/analytics.js','ga');
ga('create', 'UA-96223839-1', 'auto');
ga('send', 'pageview');
</script>